JADEN'S RAP~! is a music video created by YouTube user ShadyVox, and is directed by and features LittleKuriboh. It is a parody of the Natalie Portman Rap.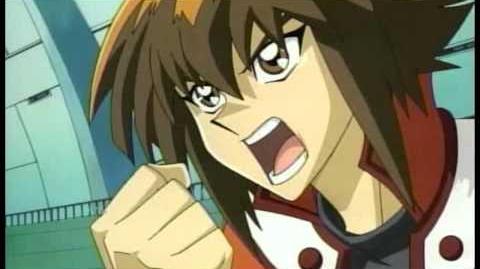 YAMI: We're sitting here today with duelist Jaden Yuki.
JADEN: Hey, yo. What's up?
YAMI: So, Jaden, what's a day in the life of Jaden Yuki like?
JADEN: You sure you wanna know?
YAMI: Please, tell us!
JADEN:
I play card games, motherf**ker;
I'm so rad, I'm amazing!
I sneak into your mom's
just to see how good she's tasting!
KAIBAMAN:
Damn, little man, you a crazy kid.
JADEN:
Yo, shut the f**k up, and suck my prick!
I'm in a 3D movie!
Better watch it, motherf**kers,
or I'll roll up to your house
and f**king shoot you with my brothers!
HASSLEBERRY:
Watcha want, Jaden?
JADEN:
Some brand-new cards!
HASSLEBERRY:
Whatcha need, Jaden?
JADEN:
TO F**K YOU HARD!
I'm knocking back a forty while I'm rolling up an ounce!
If you try to front with me, I'm gonna burn your f**king house!
My inner demons, yeah, you gonna run when you see them!
So play your card, bitch; I'M SO HOT THAT I'M STEAMING!
YAMI: ...I'm sorry, Jaden, but are we to believe you drink and do drugs while playing card games?
JADEN: I never said I was a role model.
YAMI: But... what about your fans and admirers? Do you have a message for them?
JADEN:
All my fans and admirers, can suck my chode!
I'm f***ing Jaden Yuki, bitch! You gonna take my load!
You wanna go? Well then, you'd best be bringing what you got:
your homies and your neighborhood! Just watch me kill the f***king lot!
To all the c***s (pause) talking s**t about my 'do:
HASSLEBERRY:
Like a Kuriboh!
JADEN: I'M GONNA F**KING KILL YOU!
HASSLEBERRY:
J!
JADEN: Is for Jaden!
HASSLEBERRY:
Y!
JADEN: Is for Yuki!
I'll steal your f**king cat
SO I CAN SAY I'VE GOT YOUR PUSSY!
YAMI: Wow, Jaden... I'm... surprised... All this from a Slifer Red Duelist?
JADEN: Well, there is a lot you may not know about me...
YAMI: Oh, really? Eh, such as?
JADEN:
At Duel Academy,
I got laid every day.
I cheated every duel.
I never got an A.
I've got a deck of awesome.
You've got a deck of fail.
I'll challenge your ass to a duel.
AND TAKE A S**T!
YUGI:
Jaden, you are a bad ass dude!
JADEN:
HELL YEAH!
YUGI:
And they always like to take your load
whenever you ask them to!
And as for the drug use,
well I can vouch for that!
My deck is scared of you.
Duuuuuuuuuude!
YAMI: Okay doke... One final question. Jaden, if you could play a card game with any guy in the world, who would it- (Gets shot)
JADEN:
No more f**king questions.
Written & Performed by
ShadyVox
Directed by
LittleKuriboh
Check the video description for download link
yugiohabridged.com for all other song downloads
Community content is available under
CC-BY-SA
unless otherwise noted.